How it works
My account
Register:
Red dot indicate required fields that must be filled.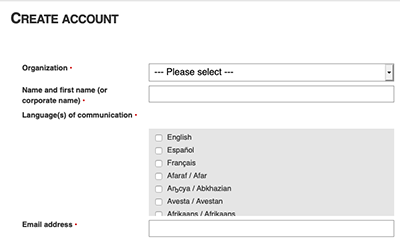 On the registration page, it is offered to include your potential web page, you need to put the entire address! Ex: http: //… The trick: copy and paste the address listed on your browser.
How to fill-up:
Structure, Coordinates, languages of communication and contacting addresses proposed according to the general data protection regulation (GDPR)
Presentation:
In this zone you present your field of activity,
Skills:
This is the heart of this communication platform.
You will browse many skills examples among the 17 sustainable development goals.
Check one or several of those in the menus and sub-menus according to what you wish to share.
This same page, with 3 different presentations, is visible for future searches.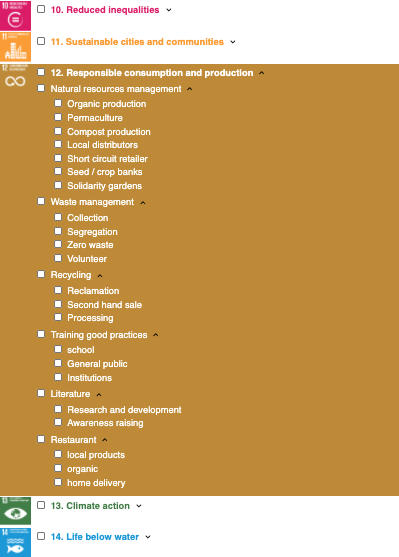 Remarks:
In this space you can define even more finely the reason of your search, the project concerned or your area of expertise. This is possible in all the languages available at this point.
Branch:
Are you the branch of a parent organization? You can have your affiliation to it approved, if you are the headquarters you can also certify your branches.
Affinity:
You can make an affinity relationship proposal.
Projects out of activity zone:
You have a project implemented or being developed far from your location, you can present it through the creation of a specific page.
You will naturally always have the possibility to update you data thereafter.

Once the registration completed:
Search one or several skills:
Location:
The place from where you wish to proceed with your search.
Distance (radius):
The distance that your search will cover.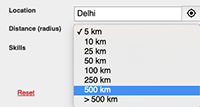 Skills:
Offers to add or withdraw some skills from you search.
If one of the skills you are looking for is missing, you can create an alert so as to receive an email when the skill is offered.
You can also widen your search on a broader zone.
In this case, it is advised to choose a skill which already knows your local culture.
Comments:
In order to rate the quality of a partners' delivery, comment on the result of your collaboration, send a message, notify an inexact message.
The developers and partner thank you:
The 17 sustainable development goals are instruments at the service of peace, let's work together for a better world!
This platform is in constant construction, we are glad to present this first version.